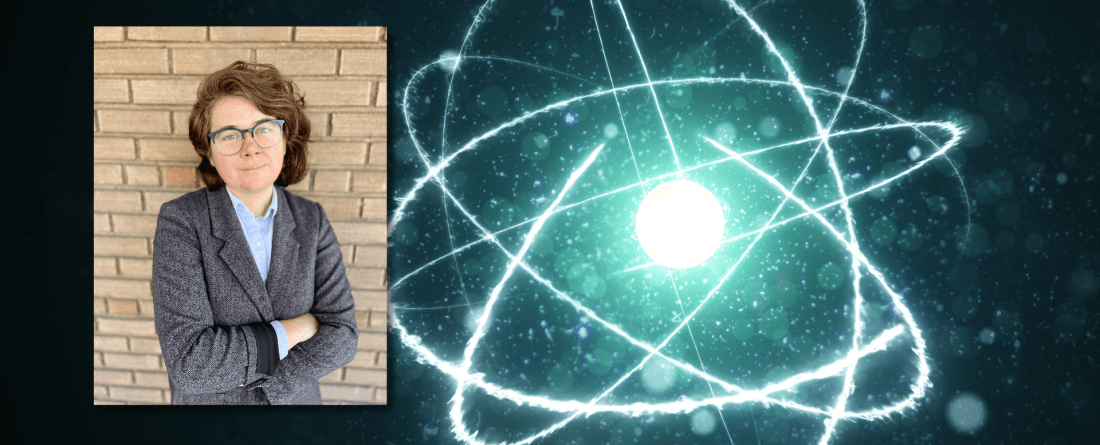 Faculty at the Center for International and Security Studies at Maryland (CISSM) who work with Ph.D. students have awarded the Yamamoto-Scheffelin Dissertation prize for AY 2023-2024 to Lindsay Rand.  Her dissertation, entitled "Schrodinger's Technology Is Here and Not: A Socio-Technical Evaluation of Quantum Sensing Implications for Nuclear Deterrence," built on Rand's background in physics and quantum technology courses she took as a Ph.D. student in the School of Public Policy. 
Rand was selected as the inaugural Kelleher Fellow and began her doctoral studies in 2019, after completing master's degrees in public policy at UMD and nuclear health physics at Georgetown University. She learned first-hand how policymakers assess the benefits and risks of emerging technologies by doing fellowships at RAND and Lawrence Livermore Laboratory, co-authoring a study on "The Desirability and Feasibility  of Strategic Trade Controls on Emerging Technologies" for the Department of Defense while she was conducting her dissertation research. Rand defended her dissertation this past summer and is currently a postdoctoral fellow at the Center for International Security and Cooperation at Stanford University (CISAC). 
"This combination of coursework and professional experience prepared Lindsay to conceptualize and complete a project that was far more ambitious than the typical dissertation," said Nancy Gallagher, the Director of CISSM and chair of Rand's dissertation committee. "Many people are currently writing about the effects of emerging technology on strategic stability, but few base their assessment on the type of in-depth technical analysis Lindsay did, and even fewer explore how policymakers' beliefs about deterrence and their social milieu influence how they reason about emerging technology."
Rand's dissertation draws on historical case studies of past emerging technologies to evaluate how uncertainty in technical feasibility, strategic preferences, and social factors contribute to perceptions of new technologies and guide policymaker decisions on deterrence requirements, arms control, and technology acquisition.  She then adopted this framework to analyze the implications of quantum sensing for nuclear deterrence, and identified strategic and social factors that will likely contribute to hype over quantum sensing regardless of technical constraints. This sociotechnical understanding of emerging technologies affords a wider set of options for policymakers to respond to arms racing risks of the current technology competition environment.
"Many attempts to anticipate the effects of emerging technologies on nuclear deterrence lack technical depth or ignore strategic preferences and social biases that lead to different interpretations of projected effects," explained Rand. "Realistically, these interpretations of effects and perceptions of technologies are often as impactful, if not more influential, in guiding policymaker decisions compared to rigorous technical analyses."
Rand ultimately hopes her dissertation will, "resolve some of the uncertainty over how quantum sensing will impact nuclear deterrence, but also offer a new analytical approach for addressing emerging technologies more broadly."
Rand will present her work at the next CISSM Forum on Thursday, November 2nd from 12-1:15 pm in 0102 Thurgood Marshall Hall. If you're interested in attending her talk, please register here.
The Yamamoto-Scheffelin Endowment for Dissertation Research was founded by former School of Public Policy doctoral student and CISSM Research Associate Marianna Yamamoto and her husband Cliff Yamamoto in honor of their parents. Past winners of the endowment's dissertation prize include CISSM research scholars Chris Hickey, Davin O'Regan, Naoko Aoki, Poorti Sapatnekar, Zafar Imran, Jaganath Sankaran, Charles Harry, Ebrahim Mohseni, and Nancy Hayden.
SIGN UP FOR CISSM UPDATES