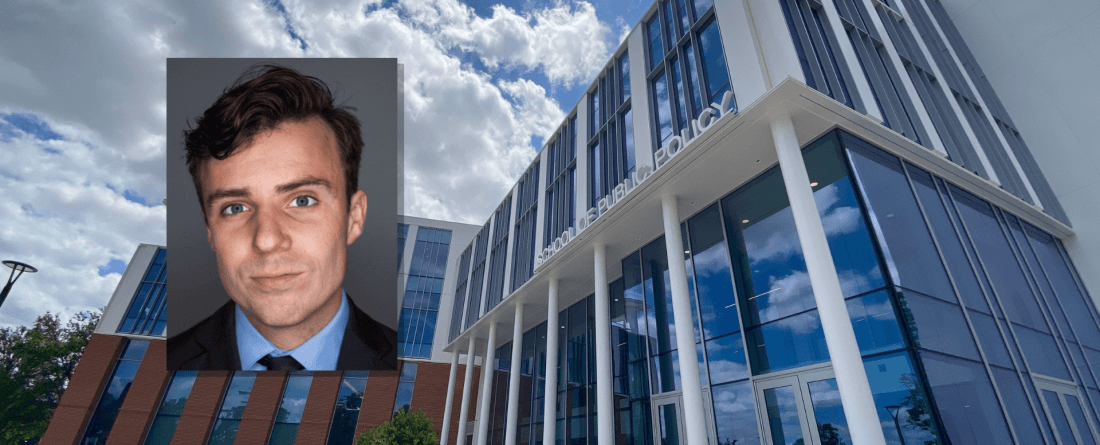 The School of Public Policy has selected Samuel Hickey as its 2022-2023 Kelleher Fellow. As the fourth recipient of the Kelleher Fellowship for International Security Studies, Hickey plans to focus his research on the intersection of science and security policy. Launched in 2019, the Fellowship Fund honors Professor Catherine M. Kelleher, a founding faculty member of the University of Maryland School of Public Policy and the first director of the Center for International and Security Studies at Maryland (CISSM).
"Sam exemplifies that type of Ph.D. student that the Kelleher fund was established to support," said Nancy Gallagher, CISSM Director. "His educational and professional background demonstrates tremendous initiative and promise for a career dedicated to working across disciplinary, cultural, and political lines to promote cooperative nuclear risk reduction."
In addition to his Kelleher Fellowship, Hickey is also the Paul A. Castleman Policy Fellow at the Center for Arms Control and Non-Proliferation (CACNP). Prior to joining the School of Public Policy as a PhD student, he served on the advisory board for the International Nuclear Security Forum and as a research analyst for CACNP. Hickey spent a year at the Arab Institute for Security Studies in Amman, Jordan as a visiting researcher where he studied nuclear energy diplomacy in the Middle East. Previously, he was an Adjunct Instructor of Physics at American University in Washington, D.C., where he earned a dual degree with a B.A. in International Studies focusing on the Middle East and a B.S. in Physics.
"It is a great honor to receive the support of CISSM, to study at the School of Public Policy, and to follow the trail that Professor Kelleher blazed," said Hickey. "I am very proud to be considered among the past recipients of this Fellowship and I am excited to join the debates at the nexus of strategic studies and public policy under the guidance of Professor Gallagher."
Past recipients of the Kelleher Fellowship include Lindsay Rand and Lauren Samuelsen.