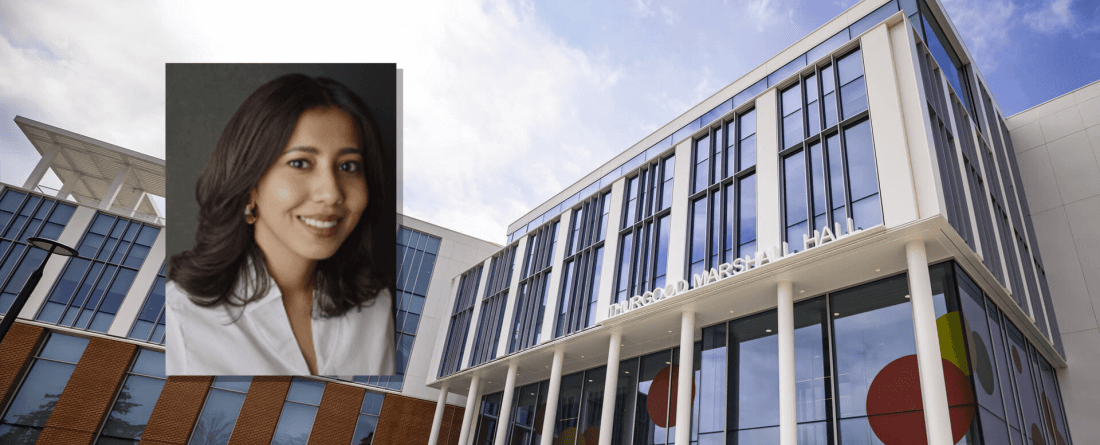 Sanjana Gogna was selected by the School of Public Policy as the fifth recipient of the Kelleher Fellowship for International Security Studies. The Fellowship honors emeritus professor Catherine M. Kelleher, a founding faculty member of the School of Public Policy and the first director of the Center for International and Security Studies at Maryland (CISSM). 
With Professor Kelleher's passing in February 2023, this year's award has special meaning. It represents the continuation of her legacy of supporting scholars and practitioners, particularly women, committed to finding creative and cooperative solutions to reducing nuclear risks among other pressing challenges in the field of international security policy. The Kelleher fellowship ensures that future generations benefit from the kind of support that Professor Kelleher provided to countless people throughout her life.
"Sanjana is the perfect choice for this year's fellowship," said CISSM Director Nancy Gallagher. "Because one of Catherine's proudest professional accomplishments in the post-Cold War years was expanding what began as a bilateral track II dialogue on security and arms control between experts associated with the U.S. and Soviet National Academies of Sciences to include regular meetings with Chinese and Indian experts, too."
Gogna is a first-year PhD student at the School of Public Policy focused on nuclear weapons strategy and deterrence theory in a multipolar rather than bipolar world. Prior to arriving at the University of Maryland, Gogna worked at the Lawrence Livermore National Laboratory where she authored a report on nuclear multipolarity in South Asia.
Gogna earned an M.A. in nonproliferation and terrorism studies from the Middlebury Institute of International Studies in Monterey, CA and completed her bachelor's and master's degrees in political science at the University of Delhi. She also spent time as a research associate at the Centre for Air Power Studies, a think tank associated with the Indian Air Force where she wrote a monograph titled "An Indian Perspective on China's Nuclear Weapons."
"It is truly an honor to be selected in the name of Catherine Kelleher." Gogna said. "I am committed to carrying forward her legacy by helping more young women build their careers in nuclear policy. I am grateful to the faculty for entrusting me with the fellowship and allowing me to be a part of the debates and ideas that originate at CISSM."
Past recipients of the Kelleher Fellowship include Samuel Hickey, Lauren Samuelsen, and Lindsay Rand.