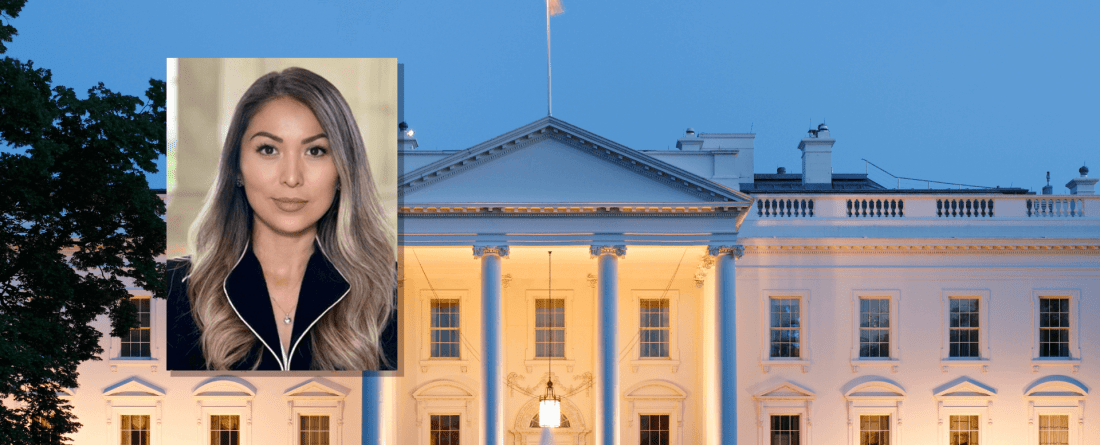 From a young age, Dr. Elnigar Iltebir knew she was destined for a career in public service. Growing up in Xinjiang (as the daughter of a political dissident against Chinese Communist rule), before fleeing to Turkey with her family, she spoke of developing an early passion for freedom, democracy, and human rights.
The Center for International and Security Studies at Maryland (CISSM) and the School of Public Policy welcomed back our distinguished alum for a moderated discussion with students and faculty to share her insights into a values-based foreign policy relationship with China. 
The discussion was moderated by CISSM Director Nancy Gallagher who introduced Iltebir as a prime example of how SPP seeks to educate students so they can channel their passions into effective policy change at the highest levels of government. Iltebir is currently Professional Staff for the Senate Select Committee for Intelligence and previously served as the China Director at the National Security Council (July 2019-July 2021), among other roles in the Executive Branch, after receiving her Ph.D. in 2015.
"In less than a decade, Elnigar has informed U.S. policy debates through rigorous analysis, guided inter-agency decision-making from the White House, and now helps members of Congress on the Senate Select Committee for Intelligence decide how the legislative branch should weigh in on U.S. policies towards China," said Gallagher.
Gallagher opened the conversation by asking Iltebir if the United States should have pursued the engagement model it began with China in the 1970s and intensified after the Cold War, hoping to move China's economic and political systems closer to those in the West. Or, should the U.S. have refused to engage with the Communist government until it democratized and respected human rights, or tried to block China's rise as an economic and technological power?
During the Cold War, Iltebir stated, the United States pursued a policy of engagement to counter the biggest threat the country faced at that time—the Soviet Union. The 1989 Tiananmen Square Massacre showed, though, that engagement with China was not advancing democracy or human rights in that country. Instead of heeding that warning sign and reassessing U.S. policy to ensure the defense of national interests and values, the United States doubled down on engagement—thanks in part to businesses eager to pursue opportunities in China's massive market—hoping that China would eventually liberalize and become a responsible power.
Iltebir advocated for a careful balance of idealism and realism, expressing hope that American citizens may have to make some sacrifices for the sake of the liberal world order. "Once we stay consistent with our values, we may have to pay some price in the short term, but we can't go wrong in the long run," she stated.
While discussing her experience at the National Security Council, Iltebir described their conscious effort to raise awareness among the American people about the U.S. government's attempts to counter one of the biggest national security threats the country faces. The decision to declassify the 2018 U.S. Strategic Framework for the Indo-Pacific was one such example.
During the conversation, Iltebir also took time to share her experience as a Ph.D. student at the University of Maryland. She chose SPP for its emphasis on practical application and concentration on fundamental security and economic issues. She drew parallels between her tenure in the White House and Congress and her time in the doctoral program. As a Ph.D. student, critical thinking skills were essential to selecting her dissertation topic, choosing the lens through which to frame it, and determining her methodology. Iltebir's time as a public servant requires similar analytical and decision-making processes: identifying problems, diving deep into the contributing factors, developing a set of options, and determining the best course of action – all captured succinctly in memos and briefings to busy policymakers.
"Having studied international affairs at the School of Public Policy, that kind of helped me realize that this is what I want to do. Through public service, I can contribute to this country to remain the most powerful military and economic power in the world," said Iltebir. When asked about joining the Trump administration, Iltebir said, "When you're called upon to serve, you serve."
Iltebir's advice for students: your time at the School of Public Policy is a chance to identify the issues you are enthusiastic about, expand your substantive knowledge of them, and sharpen your writing and briefing skills. Iltebir advises students to be open to the many diverse opportunities that the federal government has to offer, meet fellow professionals and leaders in their desired field, learn about what they do, and listen to their stories.